I just saw these on the Warlord games website, and by the looks of them they may be a 'must buy'. Half the figures will be trooping off to join my 5 Commando style mercs in africa, and the others will be joining my BritApoc collection.
Which also reminded me of these guys from artizan, who I've been meanin to pick up for a while (more recruits for the mercs, although I'll probably do some weapon swops to make them a bit less WW2...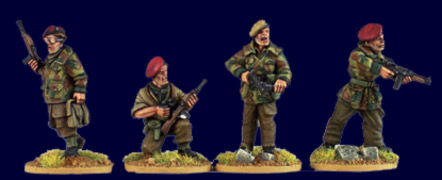 As an aside, I read Fever Crumb & Web Of Air, from The World of Mortal Engines series, and once again was captivated by the setting. I've often thought about gaming it, as it has a great diselpunk post-apocalypse feel... but I'm never sure that I could do justice to the images in mind in regards to scenery, figure conversions, etc. It did orccur to me that The Movements traction-fortress would be 1/2 meter high in 28mm scale, whilst something like the traction city of London would be around the 10 meter high mark... meaning that any games would have to be set within the traction cities rather than having them usable. Not a mjor problem per-say, but something more to ponder. Also, I'm ware that I've been playing a lot of fallout 3 recently, which has added to the visualization in many ways, but which I don't want to influence things too much and possibly distract from the setting. Maybe I'll post some more stuff up as/if my musings continue...